SOUTH AFRICAN DEPRESSION & ANXIETY GROUP (SADAG)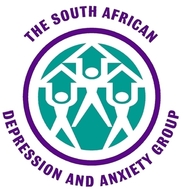 The South African Depression and Anxiety Group (SADAG) is a mental health NGO with a lot of clout. Based in Johannesburg, SADAG runs a 15-line toll free counseling center responding to 400 crises calls a day, has established 180 support groups around the country, does community outreach and workshops, and receives over 6 million Rands worth in press coverage sponsored every month through its numerous appearances on radio, TV and in the press. Started 17 years ago by Zane Wilson, SADAG has grown into the country's leading patient advocacy and education group, providing counseling, crisis intervention, information, and referral to the millions of people suffering from a mental illness across South Africa.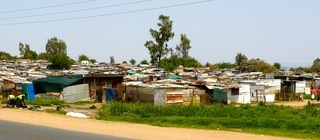 Many communities in South Africa do not have access to health care or information, many only have access to one clinic with a rotating doctor and are often over-crowded and take hours to reach. They face pandemics of TB, HIV and AIDS, malaria, malnutrition – and with these health issues come accompanying mental health problems like depression, anxiety, trauma and substance abuse. SADAG has worked in areas all over South Africa – some so rural that there is no running water or electricity, no tarred roads, no street names or maps.
SADAG's outreach work provides education and empowerment for all levels of the community. From lay counselors, to caregivers, children and teens, to teachers and churches, SADAG's workshops are often the only information source for people on how to recognize and treat mental illnesses. What SADAG trainers and counselors found was that no matter how good the brochures and hand-outs were, if people could not read them, they were useless and usually were all thrown away after a talk or workshop. Something had to be done.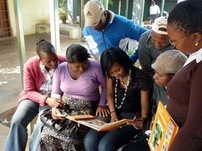 SADAG created the concept of the Speaking Book and uses this simple yet effective technology to support its work in rural and disadvantaged communities. The Speaking Books have truly changed participants' behavior during and after workshops. Now after a talk or workshop, participants receive a Speaking Book (free of charge) and unlike brochures or pamphlets, these are cherished by the recipients. The Speaking Book is not only a special possession; it offers companionship and ongoing information. For many older people in rural communities, the Speaking Book is the only book that has ever been theirs. Very often the voice artists are celebrities and users are so proud to listen and share the Book with the voice of Lillian Dube or another celebrity with their friends and family. They feel like they are talking to the voice personally and are being guided by someone who matters.
SADAG is dedicated to imparting knowledge and empowering all South Africans to take charge and responsibility of their health and well-being. The Speaking Book is an essential tool in the fight against mental health stigma and ignorance and helps SADAG to save lives.
ACUMEN FUND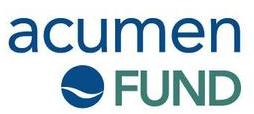 Acumen Fund has been proud to partner with Books of Hope since 2007. A non-profit global venture fund, Acumen invests in innovative, entrepreneur-driven approaches to the problems of poverty. Its investments focus on delivering affordable, critical goods and services – like health, water, housing and energy – through market-oriented approaches.
Traditional charity often meets immediate needs, but fails to enable people to solve their own problems over the long term. Businesses like Books of Hope have the potential to grow when charitable dollars run out, and they must be a part of the solution to the problems of poverty. Of course, low-income people are too often invisible to businesses and society. Building new models that provide critical services at affordable prices – in the face of high costs, poor distribution systems, dispersed customers, limited financing options and, at times, corruption – requires imaginative business solutions and partnerships supported by investors willing to take on a risk/return profile that is unacceptable to traditional financiers.
High efficacy, low cost healthcare education is a problem that has long plagued public health officials. Through a business lens, it's essentially about effective consumer education. There is a critical need to reach illiterate or semi-literate people with key messages that complement existing health and water interventions, such as correct usage of bed nets, or adherence to HIV treatment. Low-cost paper pamphlets are commonly used to educate consumers, but are an ineffective way to reach largely illiterate populations. In-person trainers are expensive and difficult to come by, as health personnel are scarce in developing countries. As many new initiatives in public health (malaria, TB, and HIV/AIDS, etc.) are being rolled out, global health programs are asking themselves: "How do we effectively get the word out to our target customers about these life-saving programs?"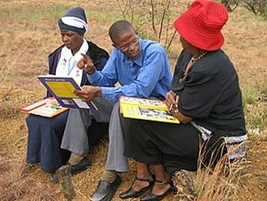 The Speaking Book addresses this key communication gap by allowing a customer to see, read, hear and understand critical healthcare messages. Each Speaking Book features 16 pages of full-color illustrations supported by straightforward and easy to understand text. For each page, there is a corresponding push button that triggers a sound track of the text, read by well-known local celebrities in the local language. A durable, laminated hard backed book, each Speaking Book is specially designed to take the reader on a step-by-step guide to wellness. The Speaking Book is a disruptive innovation that addresses key challenges using an entrepreneur-driven business model. Acumen believes that pioneering entrepreneurs, like Brian and Zane, will ultimately help us find the solutions to poverty.
About Acumen Fund:
Acumen Fund was incorporated on April 1, 2001, with seed capital from the Rockefeller Foundation, Cisco Systems Foundation and three individual philanthropists. Since then, its network of investors and advisors has grown to include a wide range of individuals and organizations who share its belief in using entrepreneurial approaches to solve the problems of global poverty.
BRAND BRIDGE GROUP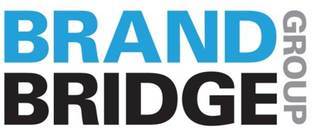 Brand Bridge Group is a brand strategy and marketing consulting firm founded by our very own, Olga Eskinazi. Brand Bridge Group specializes in developing brand strategy and launching a holistic marketing approach for small businesses, non-profits, and start-ups. Through a strong partnership with Brand Bridge Group, Speaking Books has redesigned its brand identity and launched a new marketing platform. We continue our partnership to grow the Speaking Books brand and better connect with new and existing clients.